Basic information
Location: Colònia Güell Santa Coloma de Cervelló (Baix Llobregat – Barcelona)
Qualification: xxxxx (5 on 5)
Present condition: The ensemble is suffering a restoration – some discussions are now on it's suitability -. Out of that, the present condition is Good.
How to go to: By train (Ferrocarrils Catalans – FGC – Phone: (34) 932 051 515) from Barcelona (Plaça Espanya) to Colònia Güell. Lines: S4, S8 i S33. from 8.30 to 21 h. Trains leaving every 15 minutes. Barcelona-Colònia Güell. average time to get there 22 minutes.
By road: access from BV-2002 between Sant Boi de Llobregat and Santa Coloma de Cervelló.
When arrived in Santa Coloma, follow the signalisation to Colònia Güell, Centre d'Acollida de Visitants (Reception centre).
Handicapped accessibility: The crypt is accessible for wheelchairs.
Visits:
From 1 May to 1 October, the opening timing is 10 to 14 h. and 15 to 19 h. Monday to Friday. Saturday and Sunday and Holidays 10 to 15 h.
From 2 November to 1 April, the opening time is 10 to 15 h. Monday to Sunday and Holidays.
Messes are held at 11 and 13 h. Sundays and Holidays.
Visiting is not permitted during religious services.
Closed on Palm Sunday, on Good Friday, on 25 and 26 December, on 1 and 6 January
Fees:
Contact through Information.
Discount for the Ruta del Modernisme: -1,20 € in any type of visit.
Timetables, prices and other information may change, it is advised to check beforehand.
Information: Phone: (34) 93 630 58 07
Fax: (34) 93 640 74 46
Email: [email protected]
Web: www.elbaixllobregat.net/coloniaguell
Ruta del Modernisme
History and description
Projected by Antoni Gaudí i Cornet in 1898, works on crypt started in 1908 and finished in 1914.
The Colonia Güell is a textile estate in the municipality of Santa Coloma de Cervelló near Barcelona.
For that site, Gaudí designed a church who has an irregular oval design inside, although the initial project had been designed as a double unit: a crypt with a porch and another church upwards with an access through a stairway over the mentioned porch (That second church was never made).
The interior of the crypt has five aisles: a central one and two more at each side.
The original Gaudí columns with various forms are present in and outside.
The windows jut out over the walls, and in the upper part of the door a ceramic composition show the four cardinal virtues.
The crypt is build in basaltic stone bricks with mosaics who offer an appearance of "archaic".
This building was for Gaudí a test for the construction of his biggest work (the Sagrada Família), because he had been testing different architectural solutions in it, later applied in that other temple.
Images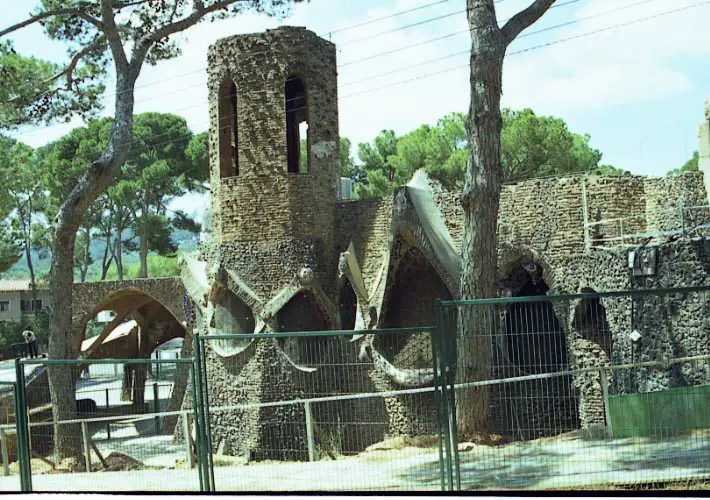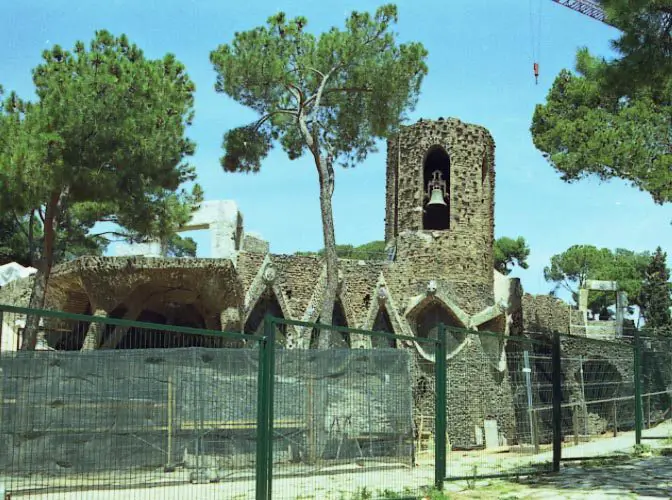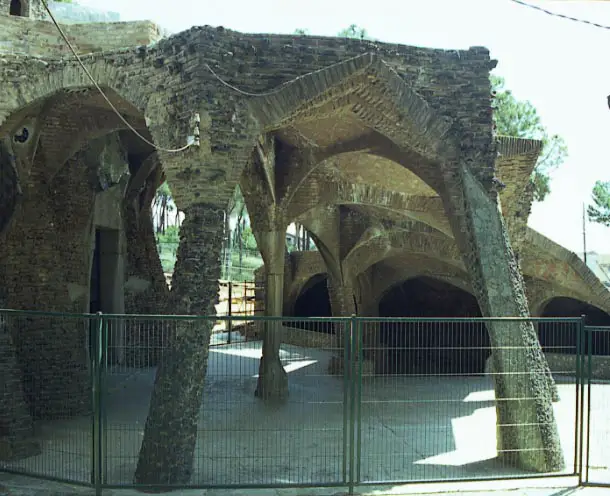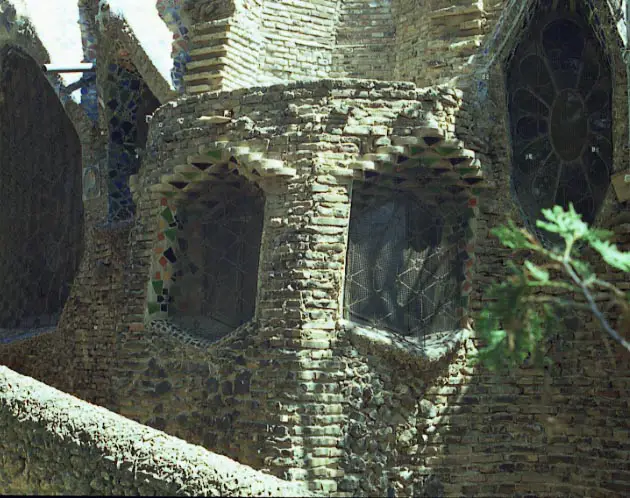 Other Works of Gaudí
In Barcelona: Bellesguard | Eduard Calvet House | Batlló House | Vicens House | Santa Teresa School | Sagrada Família Schools | La Pedrera | Güell Pavilions | Güell PalacePark Güell | Sagrada Família | Miralles Property Fence
In La Pobla de Lillet: Catllaràs Villa | Artigas Gardens
In Mataró: Workers Cooperative building (attributed)
In Montserrat: Monumental Rosary path (1st mystery of Glory)
In Santa Coloma de Cervelló: Colònia Güell Crypt
In Garraf (Sitges): Garraf Cellars
Out of Catalonia: Botines House (León) | El Capricho (Comillas) | Episcopal Palace (Astorga)