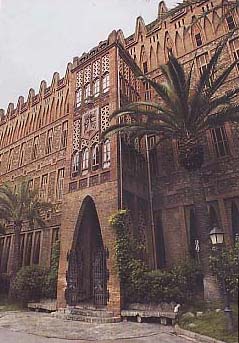 Basic Information
Location: Carrer de Ganduxer, 85-105 Barcelona.
Qualification: xxx (3 on 5)
Present condition: Façades and interiors: Good.
Transports: Buses: 14, 16, 30, 70, 72, 74.
Metro: Ferrocarril de Sarrià (Bonanova station)
Visits: Because the building is used for the same initial functions as school, the visit of interior is restricted, except limited visits Saturdays and Sundays.
Timings, prices and other information can vary, please verify it previously.
Information: Phone (34) 93 212 33 54
History and Description
This building as the Sagrada Familia was not initially projected by Gaudí but by an unknown architect in September 1888. Antoni Gaudí i Cornet took the project some months later in march 1889.
Instead of the small budget and the limitations of the initial project, Gaudí developed an austere project based in a rectangular base with four floors – the ground included – all built in brick with a top decorated with false embattlements and in each angle a four branches cross. The spaces between the embattlements are decorated with ceramic pieces with a shape remembering a "T" – of S. Therese of Jesus.
The interior is based in parabolic arches and the illumination is very well solved, creating alternatives of light and shadows very well adapted to the characteristics of a place with religious and educative functions.