Antoni Gaudí i Cornet (1852-1926)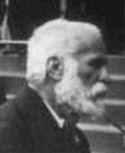 Life
(See also Chronology):
Gaudí was the greatest figure of the Art Nouveau movement in Catalonia known as "Modernisme". His works are famous all over the world.
Born in Reus (Baix Camp, Catalonia) on June 25, 1852, his schooldays were spent in the Escoles Pies at Reus. After leaving the school, he went to Barcelona where he studied at the Institut d'Ensenyament Mitja and in the Sciences Faculty of Barcelona University. He graduated as architect in 1878.
Almost his entire professional activity took place in Barcelona, where the greater part of his work is found. The social circumstances he lived, a period with a strong city, economic and urban development, the protection of a powerful middle class with the aim to be close to the European tendencies of this period, the development during his life of the "Renaixença" (new impulse of the Catalan culture between XIX and XX century), are the base upon wich Gaudí built his incredible fantasy.
Influenced by Violet-Le-Duc and Ruskin, he was one of the main architects of Art Nouveau, where he is normally classified. However, as other big genius, it is very difficult to classify him, and some opinions classify Gaudí into other artistic tendencies. The count of Güell PortraitGaudi biography is closely related to the Güell family, a family with a huge prestige in industrial and artistic circles at this time in Barcelona.
For this reason, he build for this family the Palau Güell, the Park Güell, the Colonia Güell and other works. In addition to the residential and urban building, Gaudí activity was devoted to the construction of some religious buildings as the Sagrada Família (Holy Family Church) in Barcelona, the Crypt of the Colonia Güell in Santa Coloma de Cervelló and the school of "Santa Teresa de Ganduxer" also in Barcelona.
His global concept of architecture is the reason why, his genius is manifested not only on the front walls and external areas of buildings, but also in the interiors developed with the help of many prestigious craftsmen. After some years of criticism generated by the "Noucentisme" (artistic movement opposed to Art Nouveau developed in Catalonia between 1910 and 1936), today the prestige of Gaudí is a fact accepted all around the world by specialists and people.
Antoni Gaudí died in Barcelona rolled by a tramway the 10 June of 1926.
Gaudí Collaborators:
In order to develop his enormous architectonic work, Gaudí gathered an exceptional set of collaborators, such as architects, sculptors and craftsmen (Contractors, decorators, plasterers, specialists in forge, smelters, carpenters, glassworkers, ceramists, etc.). All of them developed in their respective specialties an enormous work that was closely supervised by Gaudí himself who had a perfection persistence that frequently forced time and time again to repeat works he considered insufficiently elaborated. Naturally and given to the time elapsed and the historical vicissitudes, much of the information had been lost, but we still can know many of these exceptional technicians and workers, some of which are mentioned next:
CRAFTSMEN:
Building contractors:
Josep Bayo i Font
Policarpo Arias Rodriguez
Agustí Massip
Joiners:
Eudald Puntí
Julià Soley
Casas i Bardés
Ceramics:
Pujol i Bausis
Sebastià Ribó
Locks:
Joan Oñós
Decorators:
Gaspar Homar
Antoni Oliva
Francesc Vidal i Jevellí
Sadurní Vilalta i Amenós
Iron structures:
Torres Ferreria i Construccions
Iron: Germans Badía
Lluís Badía
Salvador Gabarró
Vallet i Piqué
Forged iron:
Manyach
Painters and decorators:
Aleix Clapés i Puig
Marble:
Taller Ventura Germans
Stained-glass:
Tallers Pelegrí
Plasterers:
Joan Beltrán
Title of book
Author
Published by
Year
Gaudí: l'home, l'obra, l'anècdota
Abella, Delfí
Franciscàlia
1964
Guía de Gaudí
Bassegoda Nonell, J. / Garrut
Roma, J.M.
Ediciones Literarias y
Científicas
1970
Gaudí: Arquitectura del futuro
Bassegoda Nonell, J.
Editorial Salvat, La Caixa
1984
Gaudí
Bassegoda
Nonell, J
Ed.
de Nou Art Thor
1986
El gran Gaudí
Bassegoda Nonell, J.
Ausa
1989
Gaudí
l'home i l'obra
Bergos,
J / Llimargas, M
Lunwerg
1999
El Temple de la Sagrada Família
Bonet Armengol, Jordi
Escudo de oro
2000
Park
Güell – Gaudí's utopia
Carandell,
JM / Vivas, P
Triangle
postals
1998
Gaudí dissenyador
Cirici Pellicer, Alexandre
Generalitat de Catalunya Dep. de
Cultura / COAC
1984
Gaudí
Ferrer, David
Editors: ETSAB, Santa&Cole, UPC.
2002
Antoni Gaudí
Güell Guix, Xavier
Editorial Gustavo Gili
1990
Gaudí i el seu temps
Lahuerta, J.J.
Editorial Barcanova
1990
Gaudí, su vida, su teoría, su
obra
Martinell i Brunet, Cèsar
COACB Comisión de Cultura
1967
Gaudí
Navarro Arisa, J.J.
Editorial Planeta
2002
El Gaudí de Barcelona
Permanyer, Lluís
Editorial Polígrafa
1996
La visíó artística i religiosa
d'en Gaudí
Pujols, Francesc
Quaderns Crema
1996
Gaudí: La arquitectura como obra
de arte total
Ramírez, J.A.
Ediciones Anaya
1992
Gaudí
Sola-Morales,
I.
Edicions
Poligrafa
1982
Gaudí. Art i Diseny
Varis autors
Fundació Caixa de Catalunya
2002

Antoni Gaudí
Zerbst,
R
Taschen
1985
Gaudí
Bassegoda
Nonell, J
Ed.
de Nou Art Thor
1986
Gaudí
l'home i l'obra
Bergos,
J / Llimargas, M
Lunwerg
1999
Park
Guell – Gaudi's utopia
Carandell,
JM / Vivas, P
Triangle
postals
1998
Gaudí
Sola-Morales,
I.
Edicions
Poligrafa
1982
Antoni
Gaudí
Zerbst,
R
Taschen
1985