Ceramics in the work of Gaudí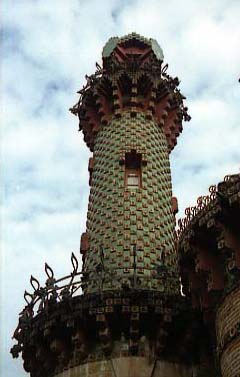 Modernisme was prodigious in its use of ceramics not only in Catalunya, but also in Valencia and other places throughout the Iberian Peninsula.  This use was also prevalent in the Art Nouveau movement in many European countries (see, for example, Otto Wagner's Majolikahaus in Vienna).  Ceramics are certainly omnipresent in Gaudí's work; their use is perhaps one of their most distinctive characteristics.  The following is a chronological analysis of ceramic use in Gaudí's works.
In 1879, Gaudí's name first appeared on the books of the Pujol i Bausis factory (see Pía Subias's article in Tradición y modernidad, la ceramica en el modernismo, published for the Ninth Annual Congress of the Associació de Ceramologia), which mention a shade of yellow called "Gaudí." These references appear again later, in 1882-1884, 1893, and 1894.  This suggests that from his very first projects, Gaudí used ceramic tile overlay as an essential component of his work.
El Capricho (also known as the Villa Quijano, in honor of its owner), built from 1883-1885 in the Cantabrian town of Comillas, features extensive ceramic decoration, probably produced by the Pujol i Bausis factory in Esplugues.  Whether the tiles came completely or in part from somewhere else, at El Capricho, Gaudí created facades of predominantly yellowish and reddish brick in horizontal bands, alternating with ceramic pieces representing sunflowers in relief and other pieces of green ceramic that give the façade a quite elegant, undulating aspect.  The tower is practically completely covered with ceramic tiles in relief.
For the Güell Pavilions in Barcelona (1883), Gaudí chose tiles of solid blue or green and others flecked with the same colors to adorn the walls of exposed brick.  The exterior is richly decorated in transparent ceramics with shell shapes that take up the majority of the surfaces, except for those that are purposefully left as exposed brick and the decorated cornices, often also finished with multi-colored ceramics.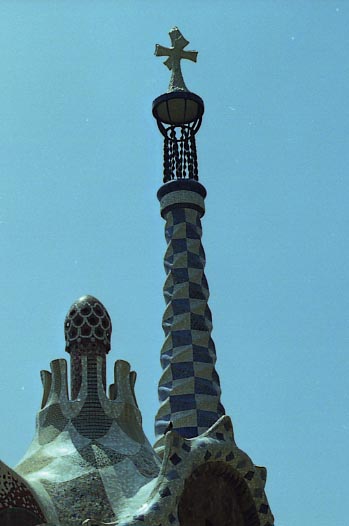 Gaudí's Park Güell is the work with the highest ceramic content.  Many various ceramic forms and patterns are found throughout the expansive grounds.  Many zones of the Park, especially the entrance and main stairway, the hypostyle "forest of columns," and the large plaza revel in an explosion of ceramic colors and forms.  This ceramic richness is apparent even before entering, since the exterior wall surrounding the Park is full of ceramic medallions and motifs.  All these adornments are quite large and have as their basic theme the "P" of Park and the "G" of Güell with various background colors—red ,blue, white, green, etc.—and different outlines and forms.  With these concepts, Gaudí broke with any monotonous ideas and applied his core principle that color must always be present in any architectonic work.
The caretaker cottage (Administration) and shop, on either side of the main entrance gate, also share in an extraordinary richness of color and whimsy, with roofs completely covered in trencadís (primarily shades of brown on the caretaker cottage and white and blue on the shop) in many different tonalities, with windows marked by ceramic floral friezes and (once again) medallions referencing the Park's patron: Güell.  Today, it is quite obvious that these ceramic pieces came from the Pujol i Bausis factory in Esplugues de Llobregat.  Maria Pia Subias has found in the decoration of these roofs a revival of Catalan and Valencian Gothic tradition advocated by architects Font i Gumà and Antoni Maria Gallissà.  According to the same author, tiles designed by Gallissà and tiles made by Manises i Onda in Valencia can be found on the caretaker cupolas.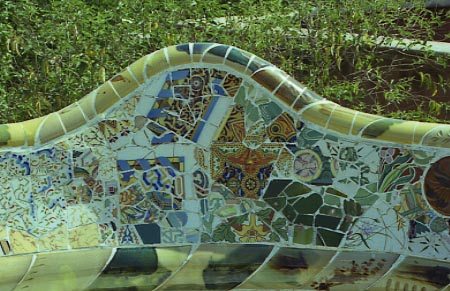 Before ascending the central staircase, visitors enjoy the ceramic-covered battlements on the right that sit atop the cave and the decorative ceramic motifs immediately underneath.  Farther up the staircase, on either side of the landings, the white trencadís of the handrails alternate with hexagonal medallions with floral and Arabian motifs.  At the center of the staircase await a snake and a dragon covered in very Mediterranean chromatic ceramics.  The hypostyle Hall of Columns is another great demonstration of decorative ceramics; the column bases are covered with white tiles for nearly a quarter of their height.  What leaves an even greater impression is the ceiling, covered in white trencadís and decorated with many medallions representing the sun and moon in various seasons.
Even though the entire Park resonates with magnificent ceramic splendor, the best is saved for last: the undulating bench completed by Josep Maria Jujol based on an idea of Gaudí.  It is perhaps the most spectacular example of trencadís in the world.  The majority of ceramic pieces comprising the bench are from Pujol i Bausis; there is documentation of a shipment of 12,000 tiles in June 1904 from that factory, although (as often occurred) other factories also contributed, such as Sebastià i Ribó and Manises i Onda.  During restoration of the bench, it was decided to replace damages pieces with solid white ones, the idea being not to alter Gaudí's and Jujol's original designs.  That decision was later criticized somewhat, but in Barcelona, every restoration project is polemical.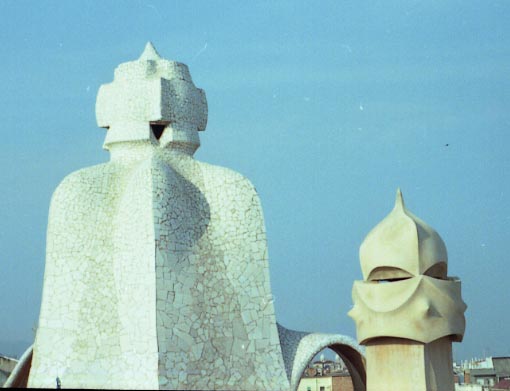 The exterior façade of Casa Batlló on Barcelona's Passeig de Gràcia is a veritable ceramic orgy, with its surprisingly spectacular symphony of colors—predominantly greens and blues of remarkable brilliance and clarity. The rear façade, although much more austere, is also decorated with ceramics from the Pujol i Bausis and Sebastià Ribó factories.  The interior courtyard is covered in graded shades of blue tiles from the factory of Sebastià Ribó in Sant Martí de Provençals (now the Clot neighborhood of Barcelona).
The chimneys of La Pedrera are also decorated with Pujol i Bausis ceramics, although the building in its entirety has a very different aspect than the chromatic richness of Casa Batlló, with imposing stone and wrought iron and much more uniform coloration.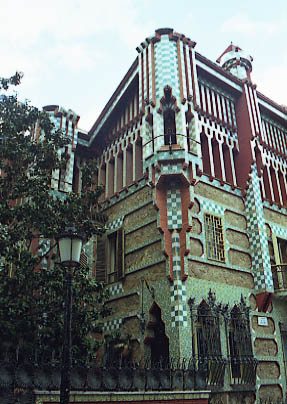 For better or worse, all of Gaudí's works display a notable wealth of ceramic decoration.  This page could be considerably lengthened with further examples—such as the Crypt of the Colònia Güell, the Palau Güell, Bellesguard, the Col·legi de Santa Teresa, or the interior of the Episcopal Palace of Astorga—but it will suffice to mention only one more work, from Gaudí's youth: Casa Vicens.  It is significant not because its owner was a tile manufacturer (which is more and more open to debate), but because, like El Capricho, it is an outstanding work dominated by ceramic elements with widely contrasting chromaticism that probably scandalized more than one purist in its day.