Iron and Metals in the Works of Gaudi
Iron in Gaudi's Works:
Ironwork has been a Catalan trade since time immemorial, and Gaudí had no trouble incorporating it as a structural and decorative element in his work. He was able to count on the very receptive attitude of his fellow artisans, who willingly accepted Gaudí's proposal to revive old techniqueGaudí:A door of the Güell Palace.s and styles.
Gaudí used iron extensively in his work, above all in its wrought and forged varieties. All of his output denotes an extraordinary imagination and great mastery. Professionals often were not specialists in ironwork, but they used it as a complement to their usual craft and had begun to acquire a sound knowledge of techniques – frequently with Gaudí's help. Worth special mention among these professionals are locksmith Ramon Vallet i Piquer, carpenter Eduard Puntí, and the artisans who collaborated in the decorative workshop of Francesc Vidal i Jevellí.
Gaudí did not rely solely on the knowledge of smiths and smelters, but on his own knowledge of these techniques, learned via his apprenticeship at the Sardà boilermaking shop and the Ciré ironworks in Reus. Without a deep understanding of these techniques, it is impossible to understand how this genius could direct professionals' work so effectively, even using illustrative models made of wire, wax, or cardboard to explain their projects to them.
Gaudí's mastery is manifested not only in the large pieces of wrought or cast iron, but also in the smaller pieces made from other metals, such as the brass and bronze he used to produce interior decorative elements like doorknobs, handles, peepholes, and others. Abundant examples are preserved in Casa Batlló and La Pedrera.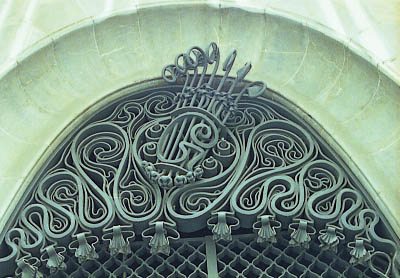 Doors:
– One of Gaudí's most impressive wrought iron works is the gate of the Güell Pavilions in Barcelona, constructed in 1885 at the Vallet i Piquer Workshops. The entire gate is an example of the use of industrial elements which, applied in this manner, produce a surprising result: when observed closely, you can see that each part of the dragon's body is formed of chain mail, springs, chains, etc., which combined give shape to what from a certain distance appears as a fearsome, attacking dragon.
– The two main gates to the Palau Güell also display an extraordinary originality of construction, combining industrial elements with completely artisanal ones, such as the wrought iron decorations crowning the gates and the noteworthy heraldic shield that separates them, shaped like a noble crest with a large "E" and "G" for Eusebi Güell. Both gates are the work of ironworker Joan Oñós, who created them in 1889. One of their most original characteristics—helicoidal wrought iron bars—caught on and spread throughout the city to the extent that they became almost the norm.
The elevator door at Casa Calvet is comprised of intersecting circles of platen, like chain mail.
Other gates include:
– The gate of the entrance Pavilion at the Cellers Güell Cellars in Garraf.
– The gates at the main entrance to the Finca Miralles.
– Walls of the Park Güell.
– Main gate of Casa Batlló
– Main gate of Casa Milà (La Pedrera)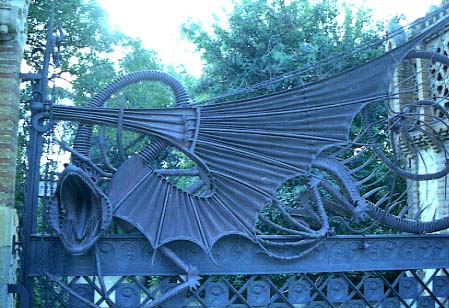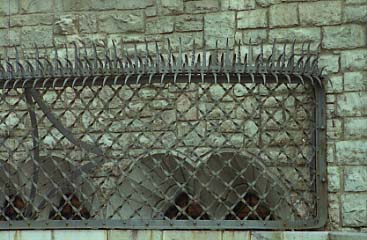 Balconies:
– Gaudí's first balconies, for Casa Vicenç in 1883.Gaudí: Balcony at Casa Milà (La Pedrera)
– El Capricho in Comillas (Cantabria, Spain), whose balconies have wrought iron handrails.
– Casa Calvet, the last place Gaudí used thick, bar handrails.
– Starting with Casa Batlló, Gaudí introduced a new design for a thicker handrail and substituted wrought iron for cast iron.
– Nevertheless, at La Pedrera, Gaudí returned to wrought iron; stone and iron take on new forms and integrate with each other in a new explosion of architectonic fantasy coupled with an extraordinary technical capability.
Streetlamps:
In addition to the streetlamps he designed for the Passeig de la Muralla (which were never completed), Gaudí worked on two other designs that did come to life. One was for the Plaça del Mercat in Vic, sadly no longer with us; the only surviving examples are the two six-armed streetlamps in the Plaça Reial and two three-armed ones in the Pla del Palau. The commission for these streetlamps was awarded to a young Gaudí in 1878.
Other Elements and Metals (Brass): Cranks, Handles, and Doorknobs-
Gaudí's preoccupation with achieving maximum functionality with these types of pieces is literally palpable in casts made by sticking hands and fingers into clay in order to be able to facilitate their use—what we would today call ergonomics. These designs can be found in buildings like Casa Calvet and the later Casa Batlló and La Pedrera. Especially in the latter two buildings pieces can be found that even today would be considered of advanced design.