General information
Most of Gaudí's work was architectural, but even though he dedicated himself most strongly to this art, he also applied his genius to comparatively more prosaic arts like furniture and decorative elements for the various houses and buildings he constructed.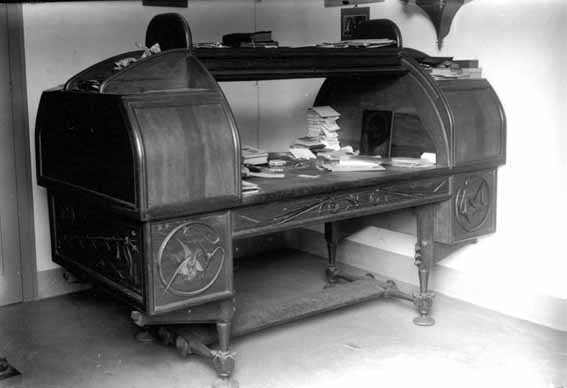 Gaudí: The first drafting table designed by himself – Source Luís Gueilburt
Even though furniture and decorative arts deteriorate once past their prime, the come into and frequently stay in the hands of collectors or museums. In Gaudí's case, we have been able to preserve a substantial part of his work, allowing us to have an idea of the importance Gaudí attached to this particular art. Here, we will discuss his surviving works, grouped according to the buildings for which they were originally designed.
The list below is fairly comprehensive. It is ordered chronologically, allowing us to observe the evolution toward simplicity, from his first flamboyantly sumptuous furnishings for the Sobrellano chapel and the Palau Güell to the more functional furniture for Casa Batlló.
One design aspect to keep in mind is Gaudí's use of iron, more as a structural element than a decorative one, but often both aspects overlapped. From the very beginning, Gaudí applied standards of rationality, comfort, and sturdiness to furniture he designed. This was one way in which Gaudí was influenced by the medievalist French architect Viollet-le-Duc. His pupils' notes recount the demonstrations Gaudí made them attend to test the comfort of a bench or chair, adapting it as much as possible to human measures and anatomy (in effect designing very early ergonomic furniture).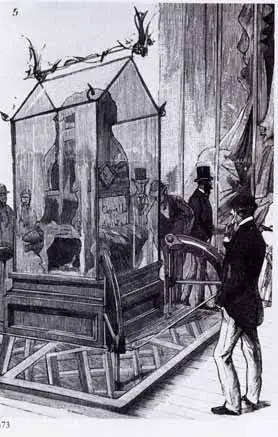 Gaudí: Showcase of Guanteria Comella at the Paris International Exhibition (1878) – Source Luís Gueilburt
Despite the abundant examples of Gaudiesque furniture, David Ferrer in his book Gaudí points out that each individual piece was usually blended with other types of furniture, following the bourgeois fashion of the time. Having pieces of furniture that bore absolutely no relationship to each other created a much sought-after species of disorder.
Inventory of Gaudi Furnishings
The following chronological list helps to understand the evolution of Gaudí's furnishings.
Gaudi's First Piece of Furniture
The first known work is Gaudí's own drafting table. It was an impressive piece of carpentry supposedly built in 1878 and destroyed during the Spanish Civil War (1936-39). The upper body consisted of a rolltop covering and had a crossbar giving structure to the unit. Two grandiose cavities on the sides served as drawers. The whole ensemble was supported by four legs very slight for the general mass of the piece. It was decorated with animal and vegetable motifs in relief.
Glass display Case for the Eduard Comella Glove Factiry at the Paris World's Fair (1878)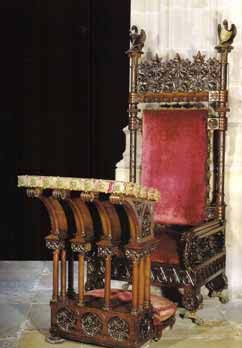 Gaudí: Ceremonial chair at the Palau de Sobrellano in Comillas – Source Luis Gueilburt
This case was quite original, especially when compared to usual showcases of the time, which were designed simply as conventional shopfront windows. Instead, Gaudí created a glass case set upon a parquet platform of inlaid wood which viewers could walk all the way around, giving them a more complete look at the material inside, which was protected by a type of little glass chapel. This piece was quite costly (40,000 reales), but it enjoyed great success at the Fair, winning a silver medal.
It seems that the friendship between Eusebi Güell and Gaudí arose from the impression this case made on Güell during his visit to the Fair; as a result, Güell commissioned Gaudí to design the furniture for the Pantheon of the Sobrellano Palace.
Decoration of the Gibert Pharmacy (1879)
Unfortunately, the building in which the pharmacy was located at No. 4 Passeig de Gràcia in Barcelona was torn down in 1895. All that remains of Gaudí's influence there is a photograph.
Furniture for the Pantheon of the Sobrellano Palace (1880)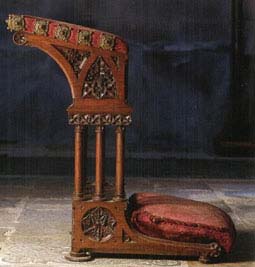 Gaudí: Kneeler at thePalau de Sobrellano in Comillas – Source: Luis Gueilburt
– Walnut church pews
– Ceremonial chair of walnut, metal, and velvet
– Kneeler of walnut and velvet
– Two walnut stools
These neo-Gothic furnishings were completed in 1880 at the Puntí Workshop in Barcelona. Today, they are on display at the Sobrellano Palace in Comillas in the Spanish province of Cantabria.
Furnishings for the Palau Güell (1886-1889)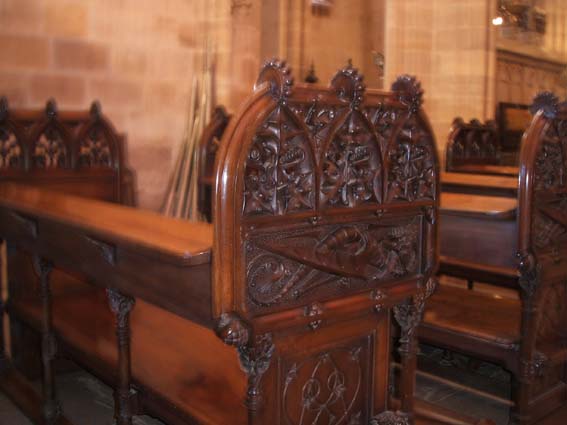 Gaudí: Benches at the Panteó del Palau de Sobrellano in Comillas – Source: Javier de Solaun
– Chair of wood, iron, and leather
– Chaise-longue of wood, iron, and velvet
– Dressing table of wood, iron, and glass
These extraordinarily original furnishings were built by F. Vidal in 1888. The completely asymmetric dressing table stood out for its incredibly modern design for the time and had a mirror that could pass for avant-garde even today. It was designed for complete comfort and allowed the user to have all her beauty implements at hand. In addition, it featured a small step designed to aid in the putting on of shoes.
Furnishings for the Sagrada Família (1889)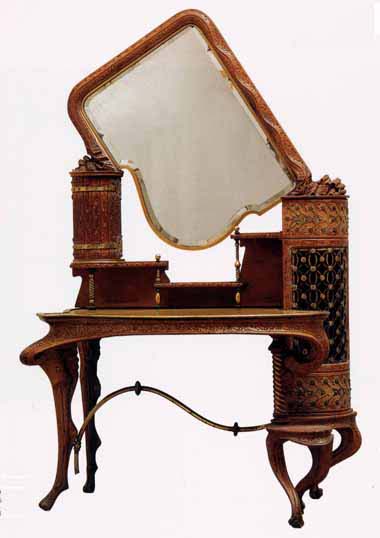 Gaudí: Dressing table of wood, iron, and glass in the Palau Güell -Source: Luís Gueilburt
Wooden furnishings were created at Joan Munné's workshops. All pieces date from 1898 unless otherwise indicated.
– Two wooden armoires for the sacristy to hold cult objects, destroyed during the Spanish Civil War – Wooden bench for celebrants (of Mass)
– Wood and iron church pews
– Wrought iron candelabra
– Candlebox of wood, wrought iron, copper, and marble
– Wooden armed Bishop's chair
– Six cast brass candlesticks, copies of those made for Casa Batlló around 1906
– Wooden confessional
– Wrought iron altar cross
– Wrought iron standing lectern
– Tabletop lectern made of wire
– Various votive lamps of copper, brass, alabaster, and cut glass, probably made by Gaudí himself
– Portable wooden pulpit
– Wrought iron triangular candelabra (tenebrari), circa 1900
The wood furnishing were made in the Joan Munné Workshop. The ensemble is dated 1898, except some pieces dated separately.
Furnishings for Casa Calvet (1898-1900)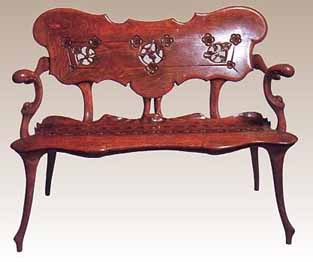 Gaudí:Double bench in the Casa Calvet – Source: Luís Gueilbrut
For the main room, Gaudí designed:
– Six armless chairs of iron and velvet
– Four tall stools with backs, of iron and velvet
– Two armchairs
– One three-seat sofa
For the Director's office:
– One corner stool, of oak
– One oak armchair
– One oak office desk with two side cavities with two drawers, and two central drawers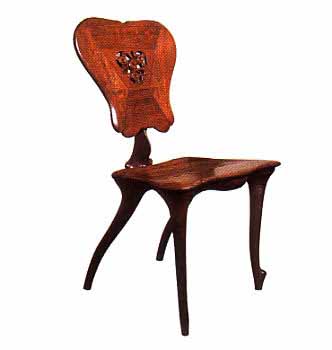 Gaudí: Oak armless chair in the Casa Calvet – Source: Luís Gueilbrut
For the offices:
– Two uniquely designed wood, iron, and brass clothes trees/coat racks
– One double bench separated by a screen
– One mirror
– One pine bookcase
– One pine corner bookcase
– One pine table with two drawers
For the Conference Room:
– One four-legged, rectangular oak table
– Four armless oak chairs
– Two armed oak chairs
– One oak couch of 2-3 seats with arms
All the furnishings were completed at the Casas i Bardés Workshop in 1901.
Cafè Torino (1902)
Gaudí participated only as a decorator, and for only part of this work, known as the Arab Room. He designed the chair rail, which Hermenegild Miralles built. We have much visual information about the café thanks to the November 15, 1902 issue of Hispania, of which Miralles was editor.
Casa Batlló (1904-1906)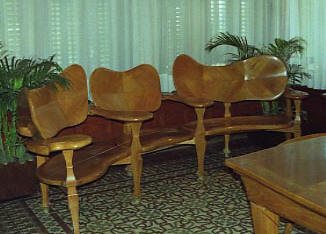 Gaudí: Gossip chair in Casa Batlló
– One ash drop leaf dining table
– One ash chair
– One ash seamstress' chair
– One gossip chair formed by joining two armed chairs such that they share one arm
– One ash couch of three seats with shared arms
– Various doors, doorframes, sinks, panels, and shutters for the main floor
All furnishings were created at the Casas i Baudés Workshops in 1907.
La Pedrera (Casa Milà) (1905-1906)
– Various oak door jambs, benches with boxes, and armoire finials, created at the Casas i Baudés Workshops in 1910.
– Various brass door jambs and accessories for doors and furniture cast at the Mañach Foundry in 1910.
The Palma de Mallorca Cathedral (1903-1914)
– One folding step kneeler for the contemplation of the Blessed Sacrament, of polychrome wood, wrought iron, and felt
– One faldistori of oak, gilt brass, and leather (small, low bench used by kings and Popes in the Middle Ages)
– One bell rest (beam supporting a small, cylindrical brass bell)
– One wood and fabric 12cm pulpit cover crowned with a bronze globe and cross
– One wooden choir stand with metal feet
– One oak stool
– One oak and wrought iron bench for celebrants (of Mass)
These furnishings were completed from approximately 1904-1908.
Furnishings for the Crypt of the Colònia Güell (1898-1916)
– Oak and wrought iron church pew, completed in 1914.
Other Furniture
Other furniture and decorative elements attributed to Gaudí include:
– Standard/crest of the Orfeó Feliuà (1900)
– Interior of the basilica of Lluc (1908-14)
– Furniture for the monks of Jesus and Mary
– Altar for Josep Maria Bocabella
– Dalmases umbrella stand
– Dining table for Sant Feliu de Codines
– Decorations for the home of the Marquises de Castelldosrius
– Crest for people from Reus living in Barcelona dedicated to the Mare de Déu de la Misericòrdia
– Crest for the locksmiths' guild
– Bust of Cardinal Torras i Bages