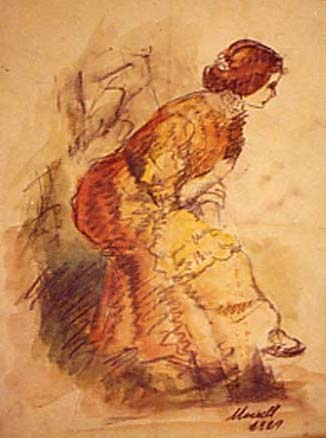 Painters welcomed Art Nouveau, the same that architects and sculptors, as a movement to free the shapes treatment instead of previous academicism rigidity.
Art Nouveau means freedom, the possibility to develop any shape, any colour, any idea and painting wasn't an exception. Free expression is visible so much in the kind burgess scenes of Ramón Casas as in the hard Nonell marginal figures.
Catalan Art Nouveau painting offer a big variety an richness of themes, this is perhaps the reason why some specialists think better to speak about "Painting of Art Nouveau period" instead of "Art Nouveau painting". Nevertheless, some painters as Rusiñol, Ramon Casas, Meifrèn, Mir, Utrillo, LLuïsa Vidal and others are sometimes considered as the strict representatives of Modernisme (Art Nouveau). Others as the brothers Masriera represent, under that point of view, a more traditional tendency – closer to academicism, but as a realism refinement, not under classic rules – into the Art Nouveau.
The style differences are not only between artists but also into the work of each of them. This is evident in Ramon Casas work, that exceptional painter characterized by its soft burgess scenes as "Plein air", "Ball de tarda", decoration of Cercle del Liceu in Barcelona, portraits of Catalonia high society and others is also the author of paintings presenting social themes as "La càrrega", "Garrote vil". etc.
This is also the case of Isidre Nonell depicting normally marginal people, but showing also an special sensibility to paint and design the high Catalan society -period around 1907-.
Santiago Rusiñol, together with Ramon Casas is the most characteristic painter of that period. His active promotion of Art Nouveau, the celebration of "Festes Modernistes" (Art Nouveau festivals) and activities around the Cau Ferrat and his literary work give to him a special prestige into the movement. The variety of themes he depicted: portraits (Eric Satie), landscape ("Barcelona harbour" and gardens), life themes (The "Moulin de la Galette kitchen"), give us an idea of his travels and different inspiration sources in his bohemian life.
Portraits and landscapes are the most frequent motives in Art Nouveau Catalan painting. This is evident in the work of Masriera brothers, Eliseu Meifrèn, Utrillo, Lluïsa Vidal, Joaquim Mir and others. In fact this is one of the few common elements in a style – the Modernisme (Art Nouveau) – grouping a lot of painters normally auto defined as Modernistes (Art Nouveau artists) but manifesting a big liberty in their own creation and not very much worried about their fidelity to the very slack rules of movement (this is not difficult to understand in a movement where the rule is the lack of rules).