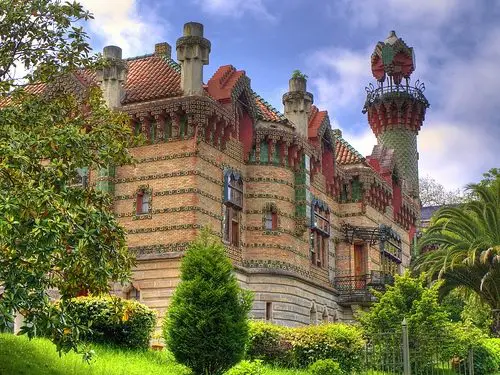 Basic information
Location: Bº Sobrellano, s/n. Comillas (Cantabria – Spain)
Qualification: xxx (3 on 5)
Present condition: Outside and Inside Good
Visits: The building is today a monument you can visit outside and partially inside paying a fee. It is also devoted to a events.
Phone (34) 942 720 365
History and Description
Designed by Antoni Gaudí i Cornet and built between 1883 and 1885 under the direction of the architect Cascante Colom following the drawings of Gaudí.
The project of this house was commissioned by Máximo Díaz de Quijano to be his summer house, close to the Sobrellano palace, the palace of his brother in law – the first Marquis of Comillas -.
The house is a project of a young Gaudí, who had no completely adopted his definitive Modernist – Art Nouveau – style, but show here his fantasy combining a contemporary vision of architecture with the adoption of historical neomudéjar elements.
The design of the building is established around a long ground floor with up two floors, and down a basement for garage and services – at present a shop selling gaudinist articles. Over the four columns of the entrance it is a very special tower who breaks the unity of the rest of the building.
The façade is made in brick adorned with ceramics rows. The forged iron is present in the balustrades specially around the tower.